Rod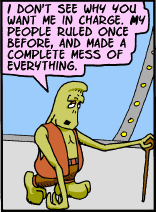 Description
Bradicor native, living on Ghanj-Rho
Bio
Rod is many millions of years old, but in the earliest parts of his life (before the fall of the Bradicor civilization), he was a marketer 2001-12-16.
Affiliations & Relationships
[Insert known relationships with other characters or groups]
Appearances
First appearance
Rod's first appearance in the strip was on 2001-12-14, after Brad lands a ship on a house, killing the last Bradicor female there.
Other notable appearances
He is installed as Chairman of the Ghanj-Rho Council 2002-03-27.
---
Author's Note
[This space is reserved exclusively for Howard!]
---
Speculation
[Insert uncertain and speculative facts about the character.]
---
External References