Balt Binion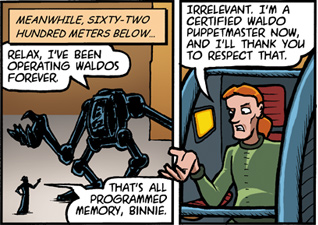 Description
Transmogrified Gav, working on Oisrí. Temporarily deceased.
Bio
Little has been revealed about Balt in the strip, except that he is a transmogrified Gav, so Gav's history is his. What his motivations are for his transmogrification have yet to be revealed.
He dies when he accidentally rips off his head, trying to demonstrate his expertise with waldos 2012-03-14. Less than six days later his head has grown back, due to the activity of unidentified blood nannies, which are shared by other transmogrified Gavs on Oisri 2012-04-22.
Affiliations & Relationships
[Insert known relationships with other characters or groups]
Appearances
First appearance
"Binnie" was first seen in the strip on the day of his death 2012-03-14.
Other notable appearances
His full name was revealed during the investigation of his death 2012-03-24.
---
Author's Note
[This space is reserved exclusively for Howard!]
---
Speculation
Could he be a UNS spy, populated with the Laz'r'us blood nannies, and not really dead?
See also Redhack and RED#2 (Retroencephaloderm #2) for a possible connection with Max Haluska and Professor Pau's nanny farm on Haven Hive.
It would appear 2012-04-22 that Binnie has grown a new head (in 6 days), and that other transmogrified Gavs at Oisri (possibly all?) have the same "very nifty" blood nannies. It also seems that the Gavs dont know where they came from, which supports the conjecture that they may be Redhack. If so, the UNS infiltration is pretty comprehensive, and may only be awaiting the trigger to go active.
---
External References