General Karl Tagon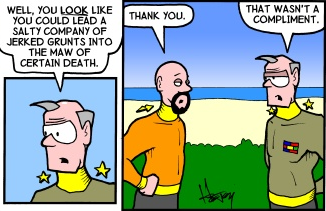 Description
Captain Kaff Tagon's father.
Bio
Retired UNS/CDS general.
Affiliations & Relationships
Appearances
First appearance
Karl Tagon first appeared in the strip on 2004-11-29, when two Daehremman thugs were trying to administer some discomfort but were interrupted by a couple of Tagon's Toughs. This was an alternate timeline which was later erased by Kevyn's time-travel [FIXME].
Other notable appearances
Referred to as "Commodore" 2015-03-30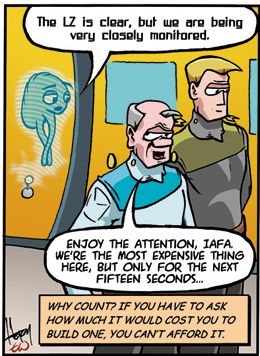 ---
Author's Note
General Tagon's mother, Karla Klingbo (deceased), was a machinist. General Tagon's wife is also deceased.
---
Speculation
Related to the strips detailing the deaths of Karl's wife & two of his children referenced above (2012-10-07, 2012-10-14, 2012-10-21, 2012-10-28, with a final epilogue 2012-12-25), I wonder if Kaff was referencing that incident when he told Ennesby he had faced weaponized nannies before, but didn't win 2012-06-10?
---
External References