Lieutenant Jeffery Bradley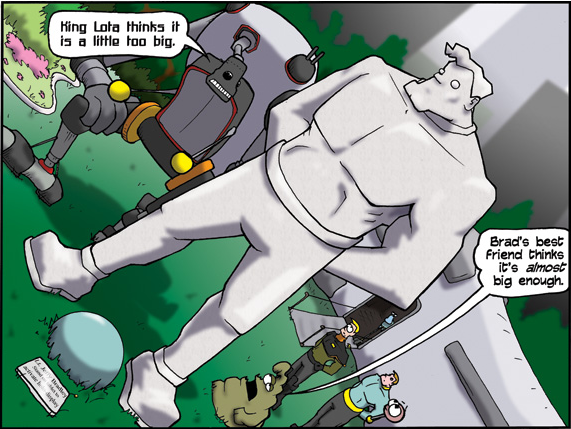 Description
Lieutenant in Tagon's Toughs. Commonly referred to as "Brad". Deceased.
Bio
When Schlock joined the company, Brad was a corporal. He was promoted to lieutenant after the recruiting on Ghanj-Rho 2002-04-14.
Brad underwent a visible change on 2001-11-06, when the magic cryokit figures out that Brad's growth as a child was deliberately stunted.
Death
When his tank is hit above a city in Credomar, Brad makes the decision to self destruct rather than have the tank plow into the densely populated buildings below.2008-12-232008-12-26 His armor isn't enough to save him when he hits a building from free-fall in strip 2009-01-14 A memorial statue was made by Lota in strip 2009-03-01 that sits beside the inert annie plant from Brad's destroyed tank.
Affiliations & Relationships
Brad was one of the original members of Tagons Toughs and was one of the first friends Schlock made in the company. Schlock also describes him as his best friend after his sacrifice 2009-03-01 which is unsurprising, given he knew Brad since his earliest days with the toughs 2000-06-21.
Appearances
First appearance
Lieutenant Bradley first appeared on 2000-06-21 while receiving orders from Captain Tagon regarding Schlock's first mission.
Other notable appearances
[This is for irregular characters who do not make regular appearances. For members of the Toughs and other regular characters, remove this sub-section.]
---
Author's Note
[This space is reserved exclusively for Howard!]
---
Speculation
[Insert uncertain and speculative facts about the character.]
---
External References