Challenge Coins
Description
A challenge coin is a small coin or medallion (usually military), bearing an organization's insignia or emblem and carried by the organization's members. Traditionally, they are given to prove membership when challenged and to enhance morale. In addition, they are also collected by service members. In practice, challenge coins are normally presented by unit commanders in recognition of special achievement by a member of the unit. They are also exchanged in recognition of visits to an organization[1].
In real life, the Schlock Mercenary Challenge Coins began as a Kickstarter Project[2] , which was funded March 22, 2013, reaching over 55 times its' original goal. There are over a dozen coins created as part of the project, including:
Tagon's Toughs coin, in multiple seriesFile:Toughs'
Strohl Munitions coin
"Not My Circus, Not My Monkeys"
Partnership Collective
Maxim 2-3 Flip
Schlock's moral compass
> Pius Dei coin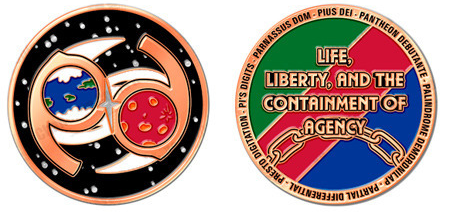 7-23 tool
XDM D2
Maxim 11 Keydrop
Ships, including:
In strip, two coins have been shown 'in-universe' - the Toughs' Coin, and the 7-24 tool. The Toughs coin was created by Alexia Murtaugh 2013-03-20; she has #001, but Tagon finagled #000 2013-03-22, while Schlock got #002 2013-04-05 (and yes, a poop reference was made). The 7-24 tools were given to Liz & Ch'vorthq by Murtaugh 2013-05-26.
History
Howard has undertaken a project to create the definitive work on Challenge Coins. Until that time, here is an excerpt from Wikipedia: There are several stories detailing the origins of the challenge coin. According to the most common story, challenge coins originated during World War I. American volunteers from all parts of the country filled the newly formed flying squadrons. Some were wealthy scions attending colleges such as Yale and Harvard who quit in mid-term to join the war. In one squadron, a wealthy lieutenant ordered medallions struck in solid bronze and presented them to his unit. One young pilot placed the medallion in a small leather pouch that he wore about his neck. Shortly after acquiring the medallion, the pilots' aircraft was severely damaged by ground fire. He was forced to land behind enemy lines and was immediately captured by a German patrol. In order to discourage his escape, the Germans took all of his personal identification except for the small leather pouch around his neck. In the meantime, he was taken to a small French town near the front. Taking advantage of a bombardment that night, he escaped. However, he was without personal identification. He succeeded in avoiding German patrols by donning civilian attire and reached the front lines. With great difficulty, he crossed no-man's land. Eventually, he stumbled onto a French outpost. Unfortunately, saboteurs had plagued the French in the sector. They sometimes masqueraded as civilians and wore civilian clothes. Not recognizing the young pilot's American accent, the French thought him to be a saboteur and made ready to execute him. He had no identification to prove his allegiance, but he did have his leather pouch containing the medallion. He showed the medallion to his would-be executioners and one of his French captors recognized the squadron insignia on the medallion. They delayed his execution long enough for him to confirm his identity. Instead of shooting him they gave him a bottle of wine[3] .
One of the traditions carried over from real life to the strip is the challenge as shown by Liz challenging (& winning against) Tagon & Kevyn 2013-11-17.
Notable Examples
[Just what it says]
Appearances
First appearance
[Insert a brief description of the circumstances of the first appearance of this technology.]
Other notable appearances
[This is for technology that does not appear regularly. For things like Annie Plants and the Hypernet, remove this section.]
---
Author's Note
[This space is reserved exclusively for Howard!]
---
Speculation
[Insert uncertain and speculative facts about the technology. Include links to Schlock in the Real World where appropriate.]
---
External References